RAPPER-TURNED-ENTREPRENEUR LOVES CARS ALMOST AS MUCH AS WE DO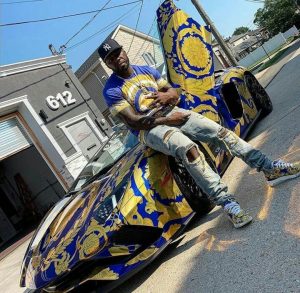 50 Cent became a star, moved into a mansion, embarked on several business ventures, and bought a whole bunch of cars. Here are five of our favorites in his collection:
1) Chevrolet Suburban
Sure, there are a lot of celebrities that can be seen driving around Hollywood in a Chevrolet Suburban. However, it's likely that only a few of them are designed to have a bombproof undercarriage, like the ones that 50 Cent keeps in his garage. Moreover, based on a report from Forbes, the rapper has at least two of these.
2) Pontiac G8
Without a doubt, the Pontiac G8 that 50 Cent sometimes drives around is a real showstopper. For the record, it's not your typical G8. Instead, it is a special edition G8 that was reportedly fully customized for the rapper. According to a report from Motor Authority, 50 Cent's G8 is utilizing an LSX 427 engine. It was made using several production-based components that are also used in the 7.0-liter LS7 engine of the Corvette Z06. As you might expect, this particular G8 packs in a lot of power, having been tested to deliver more than 500 horsepower. Inside, the car is said to feature perforated red leather inserts. Moreover, it was fitted with a JBL audio system.
3) Bentley Mulsanne
For 50 Cent, having a standard 2012 Bentley Mulsanne is just not enough. Hence, he decided to make sure that his very own unit would be wrapped in gold. According to a report from XXL, the rapper once showed up to an event in Brooklyn in said golden beast. Under the hood of the 2012 Mulsanne is a 6.8-liter, twin-turbocharged V8 engine. According to a report from Car and Driver, it has an estimated output of 505 horsepower at 4,200 RPM and 752 lb-ft of torque at 1,750 RPM According to a report from Car and Driver. The starting price of the 2012 Mulsanne is a whopping $307,395—and that's not even including the wrap job.
4) White Lightning
As you may know, 50 Cent enjoys having a number of customized vehicles in his garage. One of these would be the White Lightning, a unique vehicle that the rapper designed with Parker Brothers Concepts, according to a report from Forbes. Moreover, this automotive project was featured on the SyFy series "Dream Machines. According to the Celebrity Cars Blog, the White Lightning is supposed to be a "jet car" that is running on Asanti wheels. Moreover, it is reportedly street legal. Well, if that's the case, it's safe to say that this car has absolutely made 50 Cent a very happy customer.
5) Rolls-Royce Phantom
The Rolls-Royce Phantom pictured at the top of this blog is one of 50 Cent's many Rolls-Royces. The 2018 Phantom is powered by a 6.8-liter, turbocharged engine that is capable of delivering as much as 563 horsepower and 664 pound-feet of torque. Moreover, this car is fitted with driver assistance features such as low tire pressure warning, lane departure warning, forward collision, night vision, and more.
You don't have to be a famous rapper like 50 Cent to ride in style. Boston Corporate Coach™ also has an amazing fleet of vehicles for both business and pleasure. Just call us at +1-800-664-4480 to make your reservations or visit www.bostoncorporatecoach.com/reservations/. You can also download the Boston Coach app on Apple or GooglePlay.